An elgg tasks plugin management
Purpose
This plugin will allow you to create and manage tasks in the Elgg Way:
Create your tasks : Title, description, start, end, %done, remaining work, assign, tags, categorie tags, read access, write access.
Create Group tasks: The task belong to the group.
Manage tasks: Modify start, end, %done, remaining, assign, comments
Widget tasks: Liste task visible to you
Comment tasks: Just add a comment.
Assign task to members of the group
Notification: As the bookmark system.
Calendar dates multi-language (jquery ui i18n date picker)
French and English translations.
You can customize the status lists and type list by simply editing your translation file.
Further dev: quick input widget, task filter.
Enjoy.
Small fixes in 1.2
Corrections in French Language File
Correction of js.php to avoid IE 8 error
Fixes compatibility for 1.7 version
Stays compatible with 1.6
Fixes and Enhancements in 1.1
Added the ability to assign a friend as a worker for non groups tasks
Added the url of the worker instead of the simple text
Added the item in the group profile
Fix the group task creation.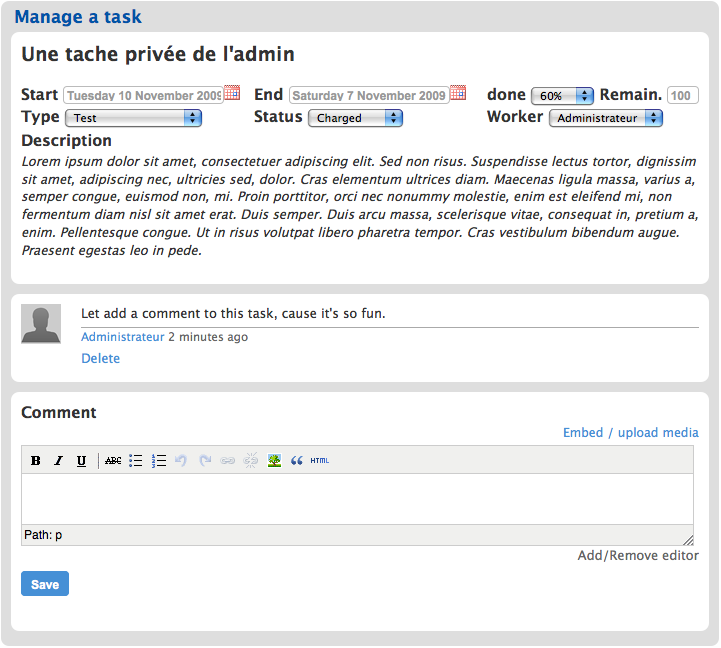 Downloads & link